Getting to Salang
Salang Bay on Tioman Island is just a  two hour ferry ride from our seaside town of Mersing here in southern Malaysia. And the change in scenery that those two hours make is nothing short of astounding.
Now that the airport on Tioman is closed, all island goers have the option of either passing through Mersing or braving it out in the god forsaken Tanjung Gemok  to get to Tioman. So, if you find yourself in Mersing (the better option), staring mind-numbingly at the brown, soup-like shores of litter and mud – I've put this little post here to re-assure you that you're in for a treat.
Follow this link for up to date and very clearly outlined information on how to get to Tioman.
Here is a quick photo-blog recap of a recent "working weekend" to Salang Bay – we beached, snorkeled, had an unbelievably good time and, yes, even managed to work a little too.
Please excuse some of the underwater pics that were taken on my old GoPro – they are a little blurry.
Snorkeling in and around Salang
Salang's jetty extending out into the exquisite blue.
Getting ready for our day trip to Coral Island (Tulai Island)
Just a cheap five minute boat ride away – Coral (Tulai) Island
The magnificent corals that lay just beneath the surface.
Gazillions of tropical fish abound.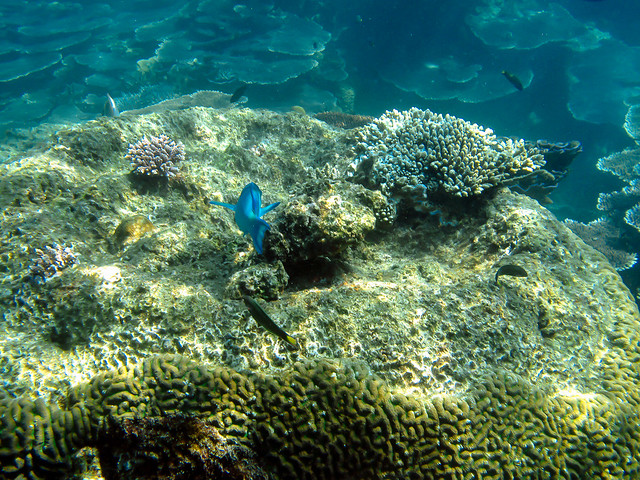 That's a brilliant blue parrot fish.
Hello!
This was our first drop off point (first of three.)
The GoPro really doesn't do the colour of the water any justice.
Diving down for a closer look 🙂
Linda having a go with a Canon in underwater housing that Jason rented for the day (also really well priced.)
Next location on Coral (Tulai) Island: Long Beach
Yes, the water is this colour.
Me with my old GoPro (recently put into retirement by an upgrade! – pics to follow soon.)
Linda and Michelle enjoying the beach which we had all to ourselves.
Hello again! We are so lucky to have been to places like this! (And live just two hours away from it!) Tioman in the background.
Lauren and her colleagues: Julie, Linda, Patrick, Sam, Michelle, Jason and Lauren (Left to Right)
Next we headed to our third and final snorkeling destination – Batu Malang:
Every time I looked around I was surrounded by tons of colourful fish.
Some sea-urchins having a meeting! (Update: i'm actually told by a mate that they are indeed social creatures!)
Lauren looking lovely 🙂
A Parrot Fish that actually held still!
More fish 🙂
It's difficult to tell who photobombed who!? This guy was pecking at my lens 🙂
Back at Salang for sunset after a rough day snorkeling. Does it get better than this?
Some Pics of Salang 
Linda and Sam making a new friend! (Actually I think he was more interested in getting to know them.)
Sunset 🙂
More sunset 🙂
Last sunset! It just kept on getting better.
Where we stayed – the Salang Indah Resort – we probably wont stay there again. (this isn't the actual accommodation.)
The JuiceBar  – Which gets lively in the evenings.
Some good seafood bbq is available.
Island Style 🙂
Picture credit: All of the photo's were taken by either Lauren or myself with the exception of some underwater photo's (the clearer ones) which are credited to Jason Trudel.