Even in winter, the sun gives us regular appearances and those of us with kids and cabin fever can once again let them loose (and ourselves) to enjoy the best this city has to offer. Here are a few places we regularly take Caleb for him to enjoy the sand, grass, ocean and brilliant outdoors in the city:
This beach signals the start of the False Bay coastline and what a splendid beginning it is. When the winter swell curls perfectly in a triumphant dance and the icy chill wraps itself around us, Muizenberg beach is still great for beach walks, play time (on those warm winter days), coffee at one of the many beach restaurants and dare I say a surf. I haven't surfed here in winter in ages (let alone surfed) but the waves truly are wonderful now- so if your kids are old enough, send them or yourself on a surf lesson with instructors from one of the surf shops. This beach tends to be windy, so make sure you and baby are dressed warmly and with a warm hat to cover their ears.
Muizenberg Catwalk:
This walk along the seaside of the railway is perfect with young kids, a pram and any shoes as it's paved. Unless you don't mind a little sea spray at one or two points on the road, go at low tide. It's fairly safe but always try to go in pairs or groups. This walk will take you all the way to St. James Beach.
Twenty five minutes in the opposite direction and just past Cape Town CBD will bring you to the Seapoint promenade- a hub for cyclists, kayakers, runners, parents and putt-putters. This pedestrian only zone is great to take your baby for a walk and also for time on the grass or in the park. Pancakes, icea-cream, coffee and snacks can be purchased all the way at the end near the Sea Point swimming pool. Bring a picnic blanket and relax on the grass in the sunshine with your baby.
Moving out to the winelands of Stellenbosch now, this is another perfect spot to picnic and enjoy playtime beneath the oaks and on the lawns. When the sun is out, the grass is dry and your baby can crawl about while you lunch outside Eight Restaurant or one of their other restaurants. Parents can join a segway tour or you can explore the beautiful grounds with you bub in a pram or carrier.
Visit Spier.
Mariner's Wharf is a popular place for us to grab Sunday afternoon lunch and what's great is that Hout Bay beach is right there for walks, playtime, a dip in summer ( or for some kids a dip in winter too). Go for walks along the jetty, buy ice-cream and coffee from the container outside. You can find lunch at Mariner's Wharf, Fish on the Rocks or Lookout Deck. Hout Bay beach can also get quite windy so come prepared.
We gently discovered this gem of a wine estate in Stellenbosch where you can have a boerie braai (without having to do it yourself), feed the farm animals with your kids and in our case- go a tractor ride. This wine estate is the first one to bring a 'kom kuier' feel to the winelands and it's such a beautiful area to lunch, picnic on the lawn with moerkoffie and enjoy the outdoors with your family.
Visit Middelvlei Wine Farm.
Being so close to our place in the Southern Suburbs, we have often ventured here to take Caleb on walks on his pram. He is generally not a fan of being in his pram but we found that he would stick it out for a longer time when he can enjoy the river, trees and green area where horses, dogs and other families go on walks.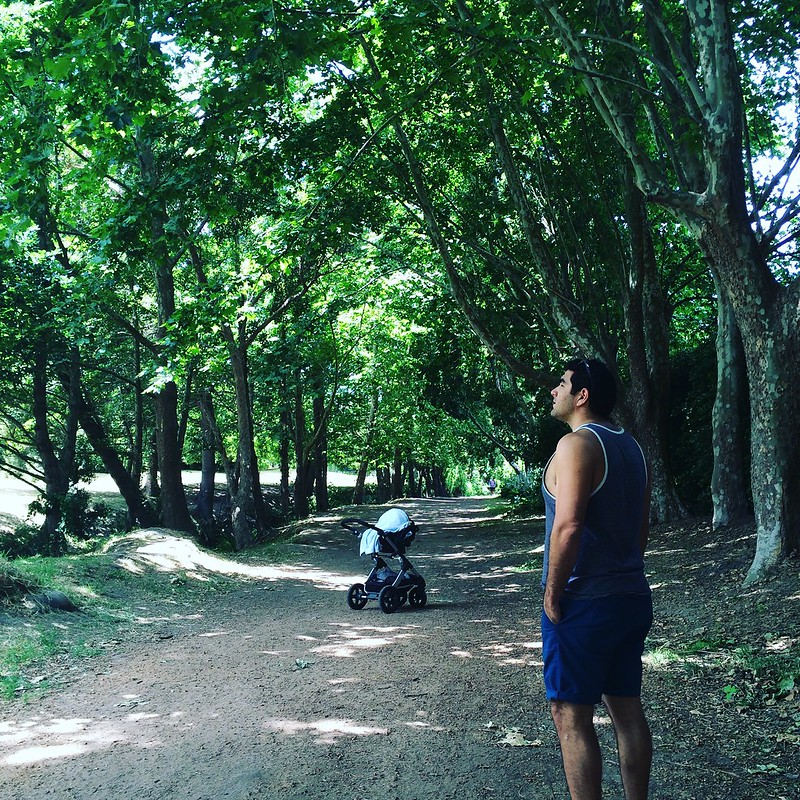 One of the first times we took Caleb to the beach, it was here. When you don't want to take your kids into the vast ocean, try a tidal pool first. St. James has a great one where you can enjoy the cool ocean but not worry about the waves if you're not a strong swimmer. Families love this beach alongside the railway with its colourful changing rooms. Plus you can get there by train as the station is right there.
St. James Walk
It's a beautiful walk from Muizenberg Beach all the way to St. James on the roadside of the railway. You even continue walking past St. James beach all the way to Kalk Bay. Great exercise with or without a pram.
8. Vergenoegd Wine Estate.
Together with the daily duck parade and ample lawn space for picnics, Vergenoegd makes for a wonderful wine estate to visit with your family. Book a picnic in advance, you'll receive blankets, gourmet food and anything else you made need on the grass. Make sure you and your kids are nearby when the ducks make their way through the farm.
Visit Vergenoegd.
9. Kirstenbosch Botanical Gardens.
If you're looking for ample garden space with lawns, trees, streams, trails and beautiful fynbos and vegetation, Kirstenbosch provides some of the world's best in all these areas. Pack your own picnic or visit one of the restaurants on site. Pram-friendly pathways and crawl-worthy lawns.
Visit Kirstenbosch.
Fishhoek is one of those beaches with a gentle break perfect for dipping baby toes into the water and going for a swim. There's a lifeguard tower and a play park and you can buy ice-cream, lunch and coffee at the restaurant on site. There's also a great 'catwalk' for a pram stroll.
Always a favourite in the summer time when the cool ocean is really refreshing. Head towards Simsontown and pay an entrance fee to take your kids in to see the penguins basking in the sun on the rocks or diving in for a swim. Do want your kids not to try touch these cute African penguins as they can give a nasty peck. Even if you don't want to pay, enjoy the boardwalk towards the back of the penguin colony where you can see the penguins in their little manmade homes and in the shade of the trees.
Sadly due to fires, there's not much Tokai forest left but to the left of Spaanschemat River Road in Steenberg/Constantia, you'll find a lovely area to walk, run and trail in a circle around the trees. /you can park your car and use a pram as there is a boardwalk for part of the way. Do not walk here alone with your baby or children. Go in groups and/or with dogs. There have been attacks on locals here before so be aware and as with any walk or hike, let people know where and when you are going and when you're expected to be back.
13. Victoria and Alfred Waterfront.
The Waterfront remains a firm favourite amongst foreigners and locals alike. The bustle, the boats, the view of Table Mountain and of course the plethora of shops and eating options are just too good to pass by. When Caleb was a few months old we found it a bit overwhelming as the noises always woke up when he slept often. But there are lovely outdoor spots that you can escape to when you don't want to stay indoors. Enjoy the jungle gym and play area outside the Big Wheel and Food Court, Walk in the direction of the Clock Tower and enjoy a waterside stroll towards the Food Market and statue of Nelson Mandela and Co.
Thank you to Stokke for providing us with an excellent pram for adventuring with: The Stokke Trailz, built for all terrain. It has really taken us everywhere.
Where do you loving taking your kids in Cape Town?
To book your stay at luxury villas and apartments in Cape Town, visit villasincapetown.com.